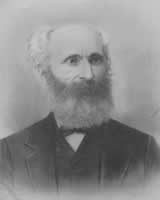 Historical Timeline
1879
, John Carberry became the first settler of Stuart, his father-in-law Peter Stuart was the first postmaster and our community is his namesake.
1880
, First school
1881
, Railroad arrived
1882
, First sermon preached
1884
, Village of Stuart incorporated
1893-94
, First telephone exchange
1894
, First auditorium
1923
, Electric light plant "lit up" Stuart
1939
, New auditorium
1953
, Stuart Stock Car races began
1960
, Stuart/Atkinson Country Club
1971
, Parkside Manor opened
1983
, Stuart boys football team in the state playoffs
1992
, Boys basketball team qualified for State
1993
, Girls basketball team won Class D State Championship
1996
, Boys basketball team again qualified for the state playoffs
2000
, Assisted living center added to Parkside Manor
2003
, Skating rink and new soccer fields built
2006
, Murphy Center project initiated
2007
, New playground equipment installed at park
2008
, Walking trail installed at park
2013
, Celebrating 129 years
The Story of Stuart
On February 15, 1879, John Carberry, an immigrant from Ireland, became the first settler of Stuart, Nebraska. He and his family filed a homestead claim and built a sod house. From this soddie he sold and bartered food, tools and other necessities that he brought from Atkinson. His father-in-law, Peter Stuart, also came and became the first postmaster in October, 1879. The town of Stuart derives its name from him. At this time the country was described as "almost a dead level, without a tree or bush in sight".
John Carberry established a general store, Orange Hallock operated a grocery store while also serving as Justice of the Peace. Within a short time, these two men owned most of the land around and including Stuart. As founder of Stuart, their belief in the future attracted other pioneers and businessmen . Education was an important aspect of the early Stuart settlement and in October of 1880, Miss Hannah Hayes taught the first school in a soddie owned by John Carberry just out side the limits of Stuart. In October of 1881, the Fremont, Elkhorn and Missouri Valley Railroad reached Stuart and with it, an increased number of possible settlers. The first child born in Stuart was Anna Carberry, and the first marriage was Ella Nightingale and Martin Devine. The first sermon ever preached in the village of Stuart was by Reverend John Sylvanus, a Presbyterian missionary, on April 16, 1882.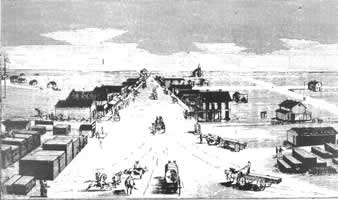 Colonel William Ketcham began the Stuart Ledger in 1883. The Stuart population had grown from a meager 60 in 1882 to 382 in 1883. The Methodist and the Presbyterian Churches had both been organized by this time. Stuart also had an opera house, two medical doctors, a dentist and a photographer. By 1884, this five year old settlement boasted of three houses for guests and travelers, two barbers, two saloons, two lumber yards, two shoemakers, three livery stables, five grocery and meat markets, two restaurants, three real estate offices, three millinery and dress shops, three attorneys, two blacksmiths, two physicians, two dentists, one hardware store, one tailor and two druggists. On January 12, 1884, the Holt County Commissioners acted on a petition presented to them and declared the Village of Stuart incorporated.
Stuart shared in the dangerous excitement of early vigilante committees and the rowdy men known as outlaws. Two of the most notorious outlaws around Stuart in 1880's were James M. Riley, alias Doc Middleton, and William Albert Wade, alias Kid Wade.
The young community was struck by a disastrous fire during 1884. The fire began in a store building and swept through the entire block, wiping out stores, merchandise and goods in a short time. The primitive fire equipment consisted of hastily organized "bucket brigades" which proved to be ineffective and frustrating. In 1887, the town made definite progress towards more adequate fire protection. A well, windmill and tank were constructed and placed in the center square of Main and Second Streets. The village also purchased 400 feet of fire hose, giving the town a fighting chance against the rages of fire.
In 1888, the town made vast improvements as ten carbon street lamps were placed on Main Street. Sidewalks and crosswalks were added which protected the pedestrians from the dirt and mud of the village streets. Plans were made to build a $7,000 brick grade and high school, two-stories high with four departments. By now the population of Stuart had grown to 600.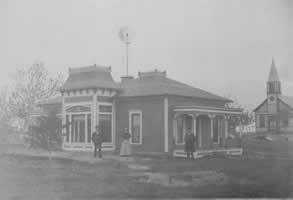 By 1890 Stuart had a population of 700. The streets were well lighted and sidewalks were in good condition. A good system of waterworks had been constructed and the Methodist church had been built. The local Catholic population purchased the old District No. 44 public school building and lots. The Catholic populace was known as the German Catholic Church of Stuart as there was not an official parish. The Stuart townspeople made purchase of an eleven-acre tract of land one mile north of Stuart to be used for Stuart's cemetery. In 1892, to increase its greatly needed fire protection, the village purchased a fire wagon and ladder with hand pumps.
In 1893-94 Stuart saw the addition of its first telephone exchange. During 1893 crops were almost totally destroyed by drought and hot winds and in 1894 another crop failure. Financial conditions grew worse and the entire state was almost in the grip of actual famine. In 1894, Walter Jillson and Dr. Reichard combined forces to construct the village's first auditorium. During the year, 1896, the Catholics desired a church and under the guidance of Father Emil Klemenz of Atkinson, they constructed a frame building with a tall spire tower. The building was completed in 1897 and in 1899,Father Anthony Birnbach became the community's first resident priest. Now Stuart possessed four church communities with worship buildings: Presbyterian, Methodist, Baptist and Catholic.
On October 5, 1903, St. Boniface cemetery was establish by the Bishops of Omaha who purchased land. In 1904, several Catholic families established a Catholic school and engaged Mrs. Valentine Krieg as the teacher. A parish Catholic school was organized in 1906 and St. Boniface School thus had its humble beginning. The School Sisters of Saint Francis from Milwaukee, Wisconsin, sent three nuns to serve as parochial teachers in St. Boniface School in 1908, and they founded St. Boniface Covent. The construction of the new St. Boniface Catholic Church was completed in 1912 after two long years of planning and raising funds.
The American Legion Post No. 115 was organized in 1919. In the summer of 1922, Stuart held a special election to get approval to construct an electric light plant. It was approved and Stuart was "lit-up" for the first time on Monday, February 19, 1923.
The town of Stuart continued to grow and in 1930, it recorded a population of 763, a gain of 24 persons in ten years. The Village Board, continued to improve the town, and in 1935 decided to purchase the old auditorium which in days gone by was known as the "rink" and the "opera house" after its original transformation from a hay barn. By June of 1935 a long-awaited new sanitary sewer system was completed. In 1939 a beautiful new auditorium was constructed. This new brick structure adorned the little town and gave it a solid structure with a basketball court and a well-equipped stage.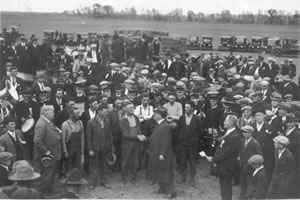 The Stuart Auxiliary of the Harvey Norton Post No. 115 was formed in 1940. The first joint airport in the State of Nebraska was created by an agreement between Atkinson and Stuart on July 17, 1946. The American Legion Unit received official approval of its name change to Norton-Carlisle Post No. 115 in 1947. The Stuart Circle S Saddle Club was formed in 1947 and on October 3, 1949 the Women's Community Club was established. Also in 1949 the Stuart Federated Church, Atkinson Presbyterian and the Cleveland Presbyterian Church combined efforts to establish the Cleveland Bible Camp, fourteen miles north of Stuart.
On March 2, 1950, the congregations of the Stuart Federated Church met and formed a single religious body, the Stuart Community Church. The Stuart stock car races were organized in 1953. Also during the 1950's Stuart lost its last physician and the last passenger train went through Stuart. A new public elementary school building was constructed in 1954.
Another cooperative venture between Stuart and Atkinson was organized 1960, the Stuart-Atkinson Country Club. A new St. Boniface Catholic Elementary School was built in 1961-62, the Stuart Advocate was sold in 1963 and the new ZIP code plan was implemented. The White Horse Ranch Museum was opened in 1964. It houses many items from the White Horse Ranch as well as many other antique items to preserve the rich heritage of Stuart's history. A steel structure was placed on the north side of the Stuart Public School to house the music, art, band room, lunchroom, kitchen, and locker area in 1968. The new Stuart Community Church was built in 1969.
On July 1, 1971, the Parkside Manor Nursing Home opened its doors. In the 1970's the American Legion Post constructed a steel building to house their Legion supper club, the new Stuart High School gymnasium was completed, and the Stuart Village Manor, Inc. built a brick duplex east of Parkside Manor.
The 1980's found the village constructing a concrete main thoroughfare, sidewalk improvements, erecting high pressure sodium street lights and the formation of the Atkinson-Stuart Arts Council. The Stuart High School students were in the news both scholastically and athletically. The boys football team participated in the state football play-offs in the fall of 1983.
The 1990's brought more improvements to Stuart. The Stuart Public School was again renovated and expanded. The boys basketball team qualified for State in 1992 and again in 1996. The girls basketball team qualified for state in 1993 and won the State Championship in Class D that year. The Stuart Village Manor, Inc. constructed two more four-plexes east of Parkside Manor. The Stuart Development Corporation constructed and sold four Spec-Houses and also purchased and cleaned up vacant lots for resale and development.
In 2000 an assisted living facility was added to Parkside Manor and the Stuart Foundation was formed. The Stuart Auditorium was renovated and expanded with a 2001 completion date. Many major improvements were made to the facilities of the Stuart Park Plans were made for the old grain elevator on main street to be renovated. The elevator will be another Historic Site along the Cowboy Trail.
For a more detailed story of the Stuart History, a Stuart Centennial Book can be purchased at the Stuart White Horse Heritage Village and Museum.